Professional Kenai River Fishing Charters
Over 25 years experience as a full time professional fishing guide and 9 years guiding the spectacular Kenai & Kasilof rivers in the great state of Alaska!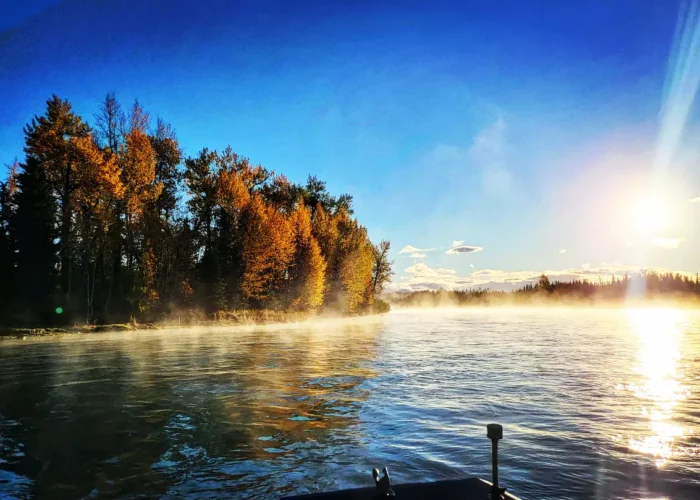 Alaska is one of the most beautiful places on earth. Rushing rivers, snow capped mountains, lakes as blue as the sky and some of the best fishing in the world!
As they say, seeing is believing. So escape the hustle and bustle of your everyday life and come experience Alaska for yourself!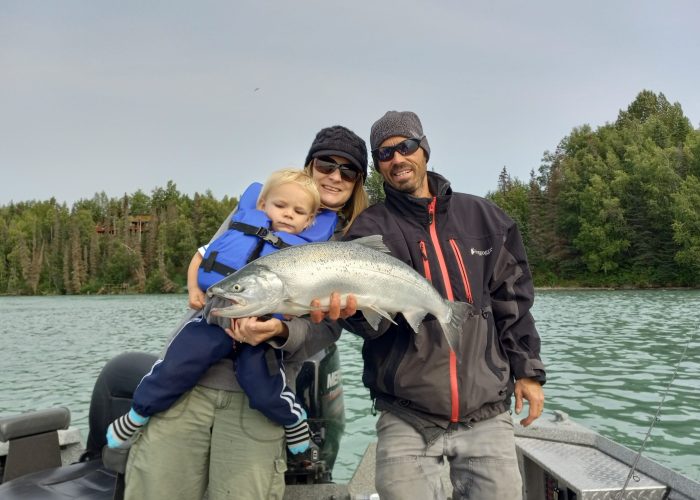 I was born and raised on the banks of the world-famous Rogue River and started my guiding career at the age of 18.
Our wonderful family relocated to the great state of Alaska and live year round in the last frontier.
With over 24 years guiding experience, my guests benefit from a lifetime of fishing for Salmon and Rainbow Trout.
I have all of the local knowledge, skills, equipment, and tricks to help YOU experience the fishing trip of a lifetime!
King salmon (Chinook) are just what their name states, King of the river!
The world record King Salmon was caught on the Kenai River and still stands today. Although they are harder to entice, they will give you a run for your money!
Kings are regularly caught 30-50lbs and you have a good shot at fish 65-75lbs on occasion!!
Silver Salmon (Coho) are one of my favorite species to fish for on the Kenai system they are very aggressive, acrobatic and great tasting fish.
Silvers can be targeted with flies, spinners, roe and plugs. They'll eat about everything but the kitchen sink! Most silvers average 8-12lbs but occasionally will get one 12-15lbs! 
The Kenai River Silver Salmon limit during the month of August is 2 fish per angler per day. In September the limit is raised to 3 fish per angler per day. There is no total season limit for Silvers.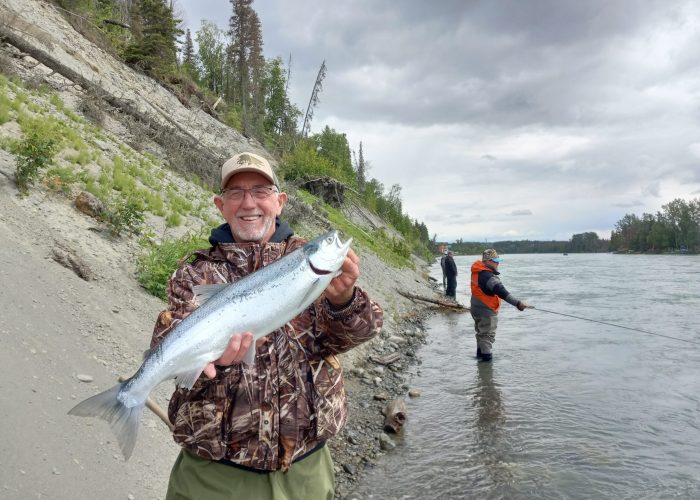 Sockeye Salmon (Reds) are the most sought after fish in the river for their mild tasting beautiful red meat.
They are a blast to catch on a fly rod from the bank of the rushing river! They typically run in large schools very close to shore and when they are running thick it's red hot action!! What a great way to fill your fish box for bbq's at home!
The Kenai river Sockeye Salmon limit is 3 fish per angler per day with no annual limit.  If the in season run number exceeds the escapement goal they will raise the limit to 6 fish per angler per day!!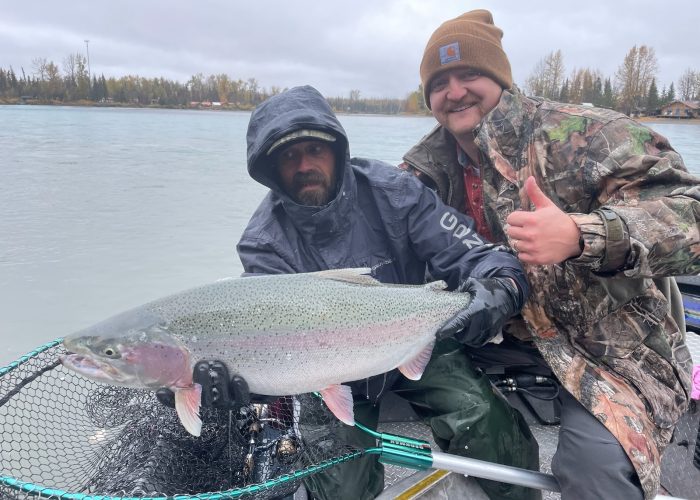 Trophy Rainbow Trout on the Kenai River are among the biggest and healthiest in the world!! The Salmon stuffed waters of the Kenai River provide an abundance of food for these Rainbow Trout.
Catching fish in the 24-27″ range is not uncommon during peak season and 30+ inch Rainbow Trout are caught and released every year on the Kenai River!!
A combination of Fly fishing and Spin fishing is used to pursue these monster Rainbows while drifting the river in a roomy power boat.
Rainbow Trout fishing is a full catch and release fishery.